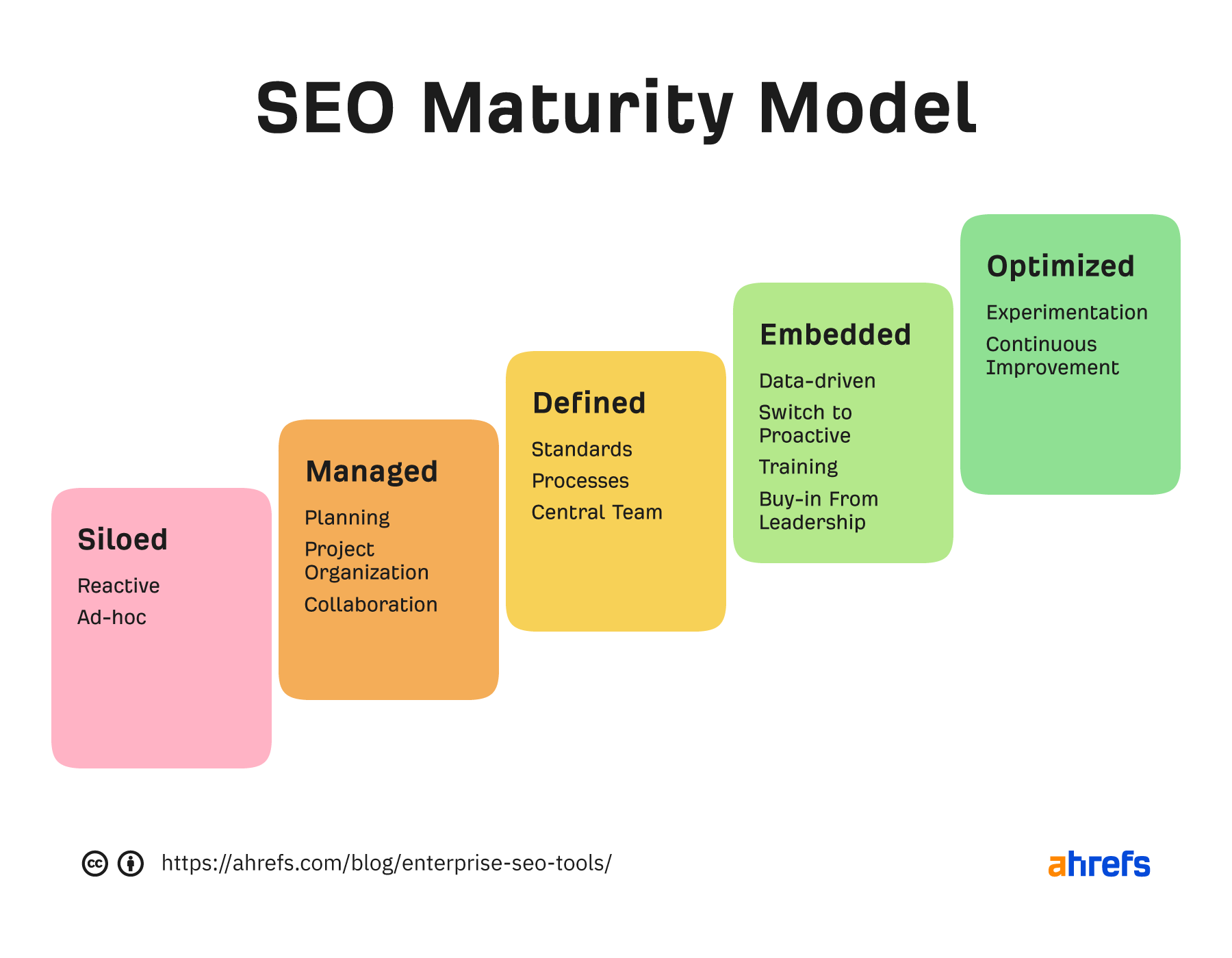 Enterprise SEO tools are made to meet the needs of larger and more complex companies. They typically need to support more users and have controls and permissions for what different user groups can access. Companies need the user interface to cover many languages so teams all over the world can use the tools.
Enterprises usually have the highest demands for data. They also need high limits and easy access through APIs so they can get quick insights and report on progress.
Let's look at your options.
I've been around for a while, and I've been through this process. I've made mistakes, and I've talked to many others about their experiences as well. Here are some things I'd suggest looking into more.
Jack of all trades, master of none
Some tools seem to build features to check all the boxes on the shopping lists we talked about earlier. They may look great on paper. But when you go to use them, you realize that many of those tools may be mediocre and contain questionable data. 
For example, as a technical SEO, I've found some tools to have things in their audit that they flag as issues—even though Google has said many times said things are not issues.
The platforms often become reporting platforms rather than being used to help people do their jobs better. This can be because of long update frequencies. Or in some cases, you have to submit a request to get data, which slows down the process.
You may encounter features that sound great on paper, such as automated insights. But more often than not, those insights have questionable value. They cause people to waste a lot of time doing things that don't have an impact.
Ahrefs is generally the preferred tool for people who work in SEO. SEOs trust our data and find our tool full-featured and easy to use. We also have so much educational material that SEOs can rely on to be accurate and help guide them through almost any subject.
We also have real SEO experts on staff who use the platform daily and help shape its future. 
Obscured pricing
A lot of companies in this space require you to contact them for pricing. They will build a "custom" package for you after asking about your budget—because they want to know what you're willing or able to pay. 
One company may be paying 20X more than another company for the exact same package. This part of the process can be far from transparent.
At Ahrefs, all of our prices are listed along with the limits and the cost of all add-ons.
Check the cancellation process
I personally think this can tell you a lot about any company. Some companies may make this difficult. You may have to contact them to cancel or have a meeting before you're able to cancel. 
Read your contract very carefully. Some companies require a written notice several months in advance if you want to cancel. Of course, they're not going to remind you of this when your contract is about to be due.
At Ahrefs, we send you a reminder before your renewal date.
Aggressive sales teams
I have nightmares about being contacted by a person from a certain company after being overwhelmed by him a few years ago. I still remember his name to this day, and I'm pretty bad with names in general.
That company isn't the only one known for aggressive salespeople, though. Some will call you, email you, email your personal email, call your personal cell phone, and message you on every social platform you're on. 
When that doesn't work, they start doing the same to coworkers, your boss, your boss's boss. They may even email your boss and tell them how bad of a job you're doing because you don't use their platform. Yes, it's really a thing, and it's ridiculous.
They also tend to overpromise. They'll tell you things like the tool is all you need and can replace an SEO team. This is never true.
I'd recommend searching a few platforms like Twitter, Facebook, and Reddit for the names of the companies so you can see some of the stories and what people think about some of the enterprise SEO tools. You should hear the stories and experiences of others before signing a contract. You'll find that many of the enterprise tools do not have the best reputation with SEOs.
At Ahrefs, we have a small accounts team to help teams assess whether Ahrefs is a good fit for their organization. After an initial discovery call, our team will develop a custom demo, guide the evaluation process by bringing all the stakeholders on the same page, and help navigate any red tape. Transparency is core to the process. To avoid surprises, Ahrefs lets customers test-drive the product before purchasing.
Once a customer decides to work with us, the Ahrefs team will provide custom training sessions specific to the use cases they need, help them learn how to use Ahrefs quickly, and ultimately reduce the time it takes to reach their goals.
Services
This can be a positive or a negative, to be honest. It's kind of a fine line that tool companies have to walk when also providing services. I've seen some vendors step over this line and try to steal work from agency partners—even those who had recommended their tool to the company.
If you need services, check what they offer and see if you can find some people who work with them so you can ask some questions. Some of the consultants at companies do good work, and others will provide work at about the same level as a junior SEO. I've seen services pitched as SEO consulting when all they really did was use the hours to help set up the tool.
Your reps will likely vary in their skill sets a lot, and some of the companies have high employee turnover. In many cases, you may be better off with an agency partner.
Ahrefs does not offer client service work. 
Lack of innovation
Just like at some enterprise companies, some of these tool companies can be slow-moving. You will hear typical excuses like it's on the roadmap or it's coming soon. But in many cases, the features just never show up. In some cases, they may acquire other tools to try to make up for the lack of innovation, but they may kill whatever made the previous tool worth acquiring.
We do roundups of all of our product updates every month or two. You can see the kind of progress we make and the innovative features we launch. 
Biased comparisons and studies
Lots of these tools will show you cherry-picked comparisons that make them look awesome and studies they have run where they declare themselves the winner. Take all of this with a grain of salt.
If a tool wants to win link data comparisons they can just count more things like subdomains as referring domains, count dead links, count links more than once, etc. There needs to be more transparency which is why this exists. Quality of data matters. https://t.co/5GGaEjbzW8

— Patrick Stox (SEOpedia) (@patrickstox) January 27, 2021
Don't just take any tool's word that it's the best. Ask around. See who comes up as the platform of choice. See who real users favor.
As I mentioned earlier, we're the favorite tool for SEO teams. We epitomize big data. 
We crawl faster than any other SEO tool, according to Cloudflare Radar.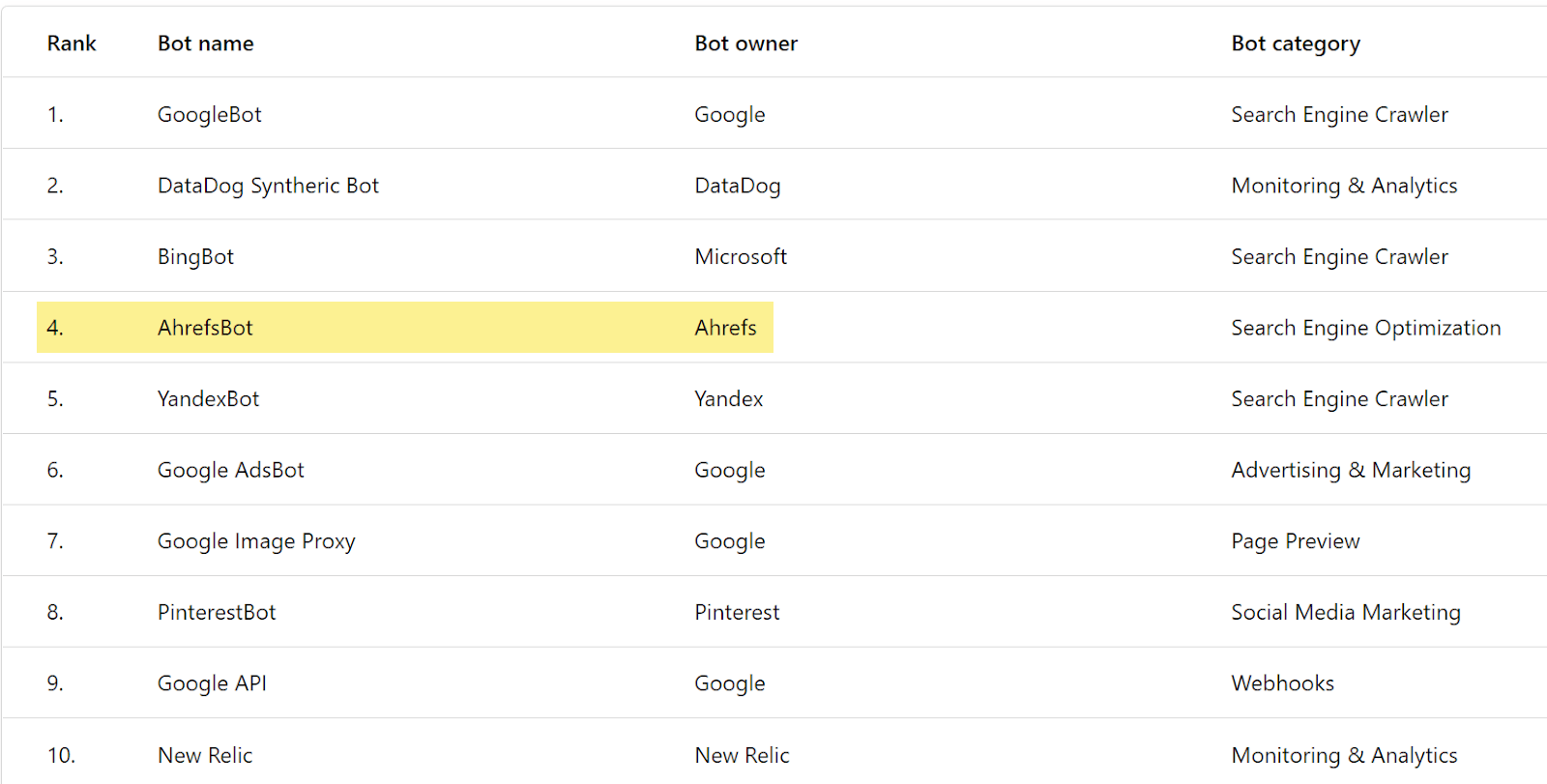 We're the best backlink checker, according to Matthew Woodward's test of 1 million domains. We're the only SEO tool that will pick up links added with JavaScript for our backlink index because we're the only one that renders pages while crawling the web.
We have the largest keyword database for U.S. keywords and the most accurate traffic estimates, according to Authority Hacker. For keywords where we have enough data, we use individually modeled click-through rate (CTR) curves rather than a single generic model for the curves.
Getting data into your own systems with Ahrefs is easy using our API. We give you the request needed based on the report you're in and the filters you have set.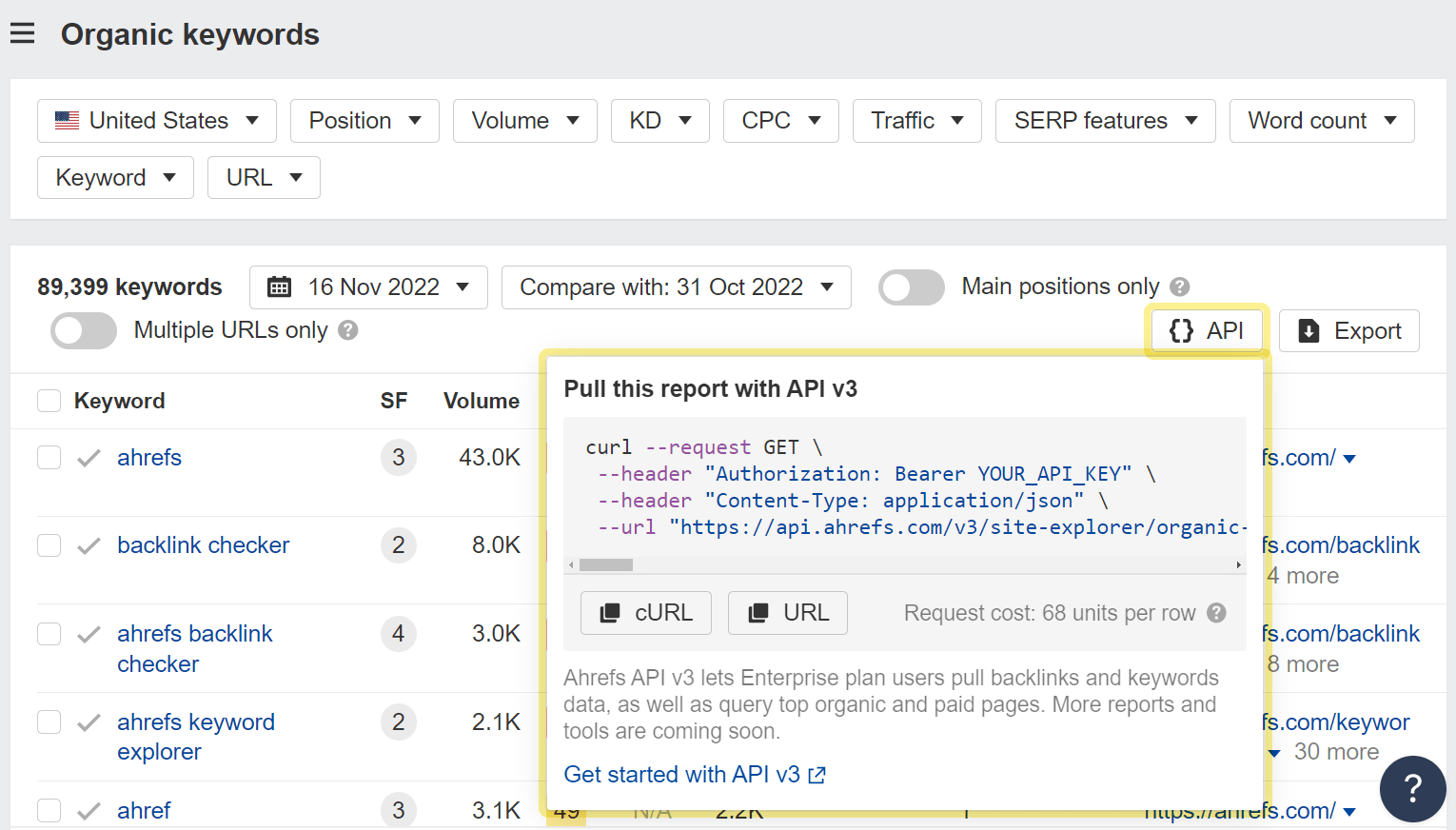 You can also get data out of the platform with our Looker Studio connector (formerly Google Data Studio).
For Site Audit, we only charge for internal HTML pages that return a 200 HTTP status code.
There are also our industry-leading articles, videos, and courses. These resources will educate you on SEO and show you how to make the best use of the platform.
Final thoughts
Onboarding an enterprise SEO tool can be a long and difficult process. Getting rid of a bad tool once it's integrated into your systems can be even harder. Make sure you do your homework and select the right solution for you. 
As we've built out our enterprise offering, we've added a lot of features that enterprise companies need to be successful and all the pieces they need to meet compliance guidelines. If you have a feature you want to see us add, message me on Twitter.