February 13, 2020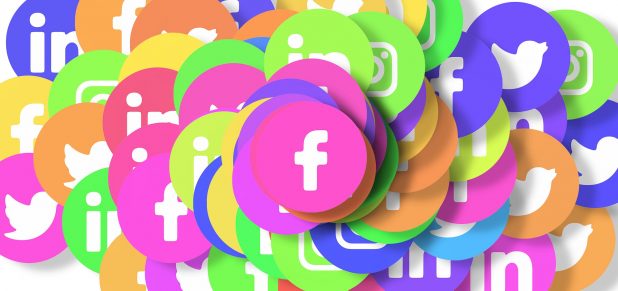 Social media giveaways are engaging for users and highly beneficial for the brands that host the giveaway. Companies are using giveaways to drive traffic to their websites, build email lists, and increase social media followers.
Giveaways are viral content on social media. When a user sees a giveaway pop up in their feed, they immediately want to engage with the post. This is the kind of hype you would want your brand attached to. This is why so many brands today are taking every opportunity to host a social media giveaway.
Why Host a Social Media Giveaway?
Giveaways have become increasingly popular on social platforms such as Facebook and Instagram. Giveaways allow brands to reach a broader audience on social media, as opposed to the audience they already have. 
By reaching a broader audience, brands are able to build their followers and discover new leads. Apart from crushing it on social media, giveaways are also good for:
Increasing traffic to your website
Building email lists
Getting people to download your app
Getting people to create social media content for you (user-generated content)
Driving people towards your physical store
If your goal is to boost traffic to your website, you can host an Instagram giveaway that requires people to visit your website to enter. By doing this, you will be tapping into Instagram's massive user base and directing those users to your website.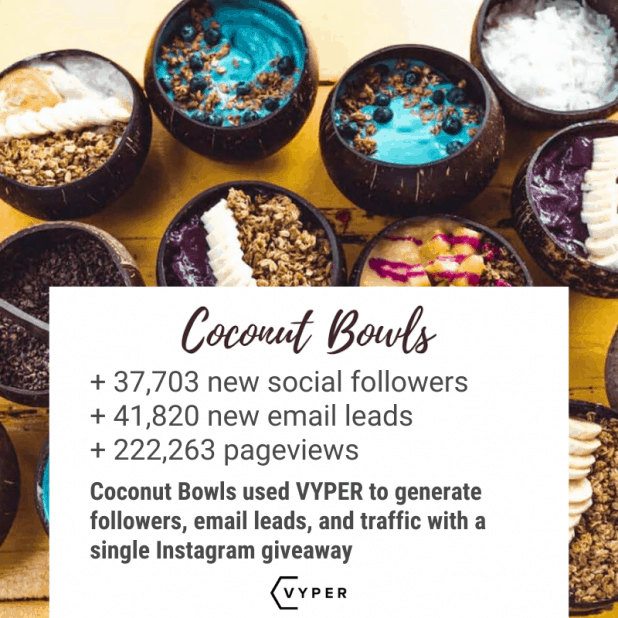 Coconut Bowls, an eCommerce store, managed to achieve multiple goals with a single social media giveaway. They drastically increased their followers and email lists while generating tons of traffic to their online store.
How to Host a Social Media Giveaway
A social media giveaway is a simple concept. You sponsor a prize, ask people to enter, then choose a winner for your giveaway. However, there are other things that you have to consider when hosting a giveaway. Especially if you want your giveaway to be successful.
Some of the most crucial elements of a social media giveaway are:
Planning Your Giveaway
Choosing a Prize
Launching and Promoting Your Giveaway
Evaluating Your Giveaway
If you wish to maximize the results of the giveaways you host, you will have to ensure that your giveaway is well planned, has an excellent prize, and is promoted properly. If not done correctly, your giveaway can turn out to be a failure and it can impact negatively on your brand.
Plan your Giveaway
Planning is essential when hosting a giveaway. You have to get a better understanding of why you are hosting a giveaway and who the giveaway is for. The first step to planning a giveaway is to determine your goals.
Choose a Goal and Entry Method for Your Giveaway
As mentioned above, there are many benefits to hosting a social media giveaway. Benefits such as growing social media followers or email lists. If all you are looking for is more followers on Facebook, then you can host a Facebook giveaway, with the goal being to maximize your followers.
A clear goal will help you to expertly structure your giveaway. If your goal is to gain more followers, then you can request Facebook users to follow you to enter the contest. If your goal is to build your email list, then you can request users to exchange their email to gain entry into the giveaway.
It is also possible to assign multiple goals to a giveaway. You can indeed request users to follow you on social media, enter their email address, and visit your website to enter the giveaway. The only problem with this is that the entry method will be too long and users could end up leaving halfway through submitting their entry.
To be safe, it's best to determine a single entry method and optional 'bonus entries'. This way, users can just submit their email to enter, if that is your main goal. Then if they wish, they can submit additional entries to improve their chances of winning. These bonus entries (follow us, visit our website, etc.) can be actions related to your other goals. 
Choose a Prize
When selecting a prize for your giveaway, you want a prize that will get people excited about taking part in your giveaway. Even if the entry method is just an email address, people are still reluctant to take part in giveaways with weak prizes.
Another crucial factor when picking out a prize is to ensure that the prize attracts the right audience to your giveaway. If you do choose a general product like a smartphone or TV, chances are, you will get tons of entries. However, the majority of those entries might not be interested in your brand, but only interested in the prize.
It's best to select a prize that your target audience finds desirable. A valuable prize that exists within your niche. This way, you will be more likely to attract high-quality leads to your contest. 
Launch and Promote Your Giveaway
After the planning stage is over and you have your giveaway prize, you can then launch and promote your giveaway. If you are hosting a giveaway on Facebook or Instagram, you will have to create a post announcing your giveaway.
This is the post that you would want to go viral. Posts that have tons of comments, likes, and shares quickly become popular on a social network. If your giveaway post does have a lot of engagement, then the post will become even more visible to your followers.
You can ask your followers to comment, like, tag a friend, and share your post so that it can go viral through increased engagement. Getting people to share your post is crucial. If a person shares your post on Facebook, then all their friends will be able to view your post, increasing the post's reach.
Promote, Promote, Promote!
You shouldn't let a single post on social media determine the success of your giveaway. Use your giveaway as an opportunity to start a conversation with your current client base and other potential leads.
Social media giveaways are a great opportunity for people to discover your brand. Use the giveaway to attract people to your brand, your products, and your website. If you already have marketing channels set up, use them to promote your giveaway.
Don't forget to design an eye-catching banner for your giveaway. Pro tip: create one banner design and repurpose it for multiple channels by adjusting the image dimensions.  
Some of the more common marketing channels used to promote a giveaway are:
Email
If you have an established email list, you can send out an email to everyone on that list to announce your giveaway. Don't forget to send another email a week before the end of the giveaway to remind them to enter. You can use these emails as an opportunity to lead traffic to your website as well by adding links at the bottom of the mail.
Blog
If your website has a developed blog section, then you can create a post specifically for the giveaway. List everything that needs to be known about the giveaway, including rules, closing date, and the date winners will be announced. You can then direct traffic from other blogs or social media to this blog post. If the prize is your own product, then you can place a link to that product within the blog post.
Influencer Marketing
If you are hosting an Instagram giveaway, then perhaps you could partner up with an Instagram influencer who can help you to promote the giveaway on the platform.
Paid/sponsored posts
If you are looking to boost your giveaway post early on, then you could invest a small amount of cash and boost the giveaway post. This will help you to get the word out early on and will also allow you to reach an audience outside of your current followers.
Social media giveaways are definitely worth the time and effort. Apart from achieving multiple goals, giveaways are fun and engaging for your audience and also great for brand building. If you plan and manage your giveaway correctly, you will increase your chances of attracting quality leads for your business.
There is plenty of work to do when keeping track of entries and other analytics related to your giveaway. However, there are services like Vyper that specialize in managing social media giveaways and contests.
---
Jack Paxton is the co-founder of VYPER, a marketing tool that helps brands build email lists, social followings and revenue using viral giveaways, referral and reward programs. After millions of dollars spent testing different marketing strategies at his marketing agency. He then also co-founded Hyax a fast, conversion & design focused course and funnel builder for creators.https://blog.trello.com/not-a-morning-person