You've probably heard a lot about the importance of targeting keywords with your blog posts.
But why should you do that? And how exactly do you target keywords?
You'll learn how in this post. 
Why target keywords?
If your content  
2. Identify search intent
Google's aim is to rank the most relevant content for any query. As such, it tries to understand why a searcher is Googling that keyword so it can serve the most relevant results. 
That means, in order to rank high on Google, we need to identify and match search intent. Fortunately, we can do this by looking at the current top-ranking pages for your target query. Specifically, we want to identify the three Cs of search intent:
Content type – The dominant type of content on the SERPs—in this case, blog posts.
Content format – The dominant content format, such as guides, listicles, reviews, and more. 
Content angle – The dominant angle. Examples include the current year, for beginners, simple and easy, and more. 
For example, let's take a look at the top-ranking pages for the keyword "how to clean coffee maker":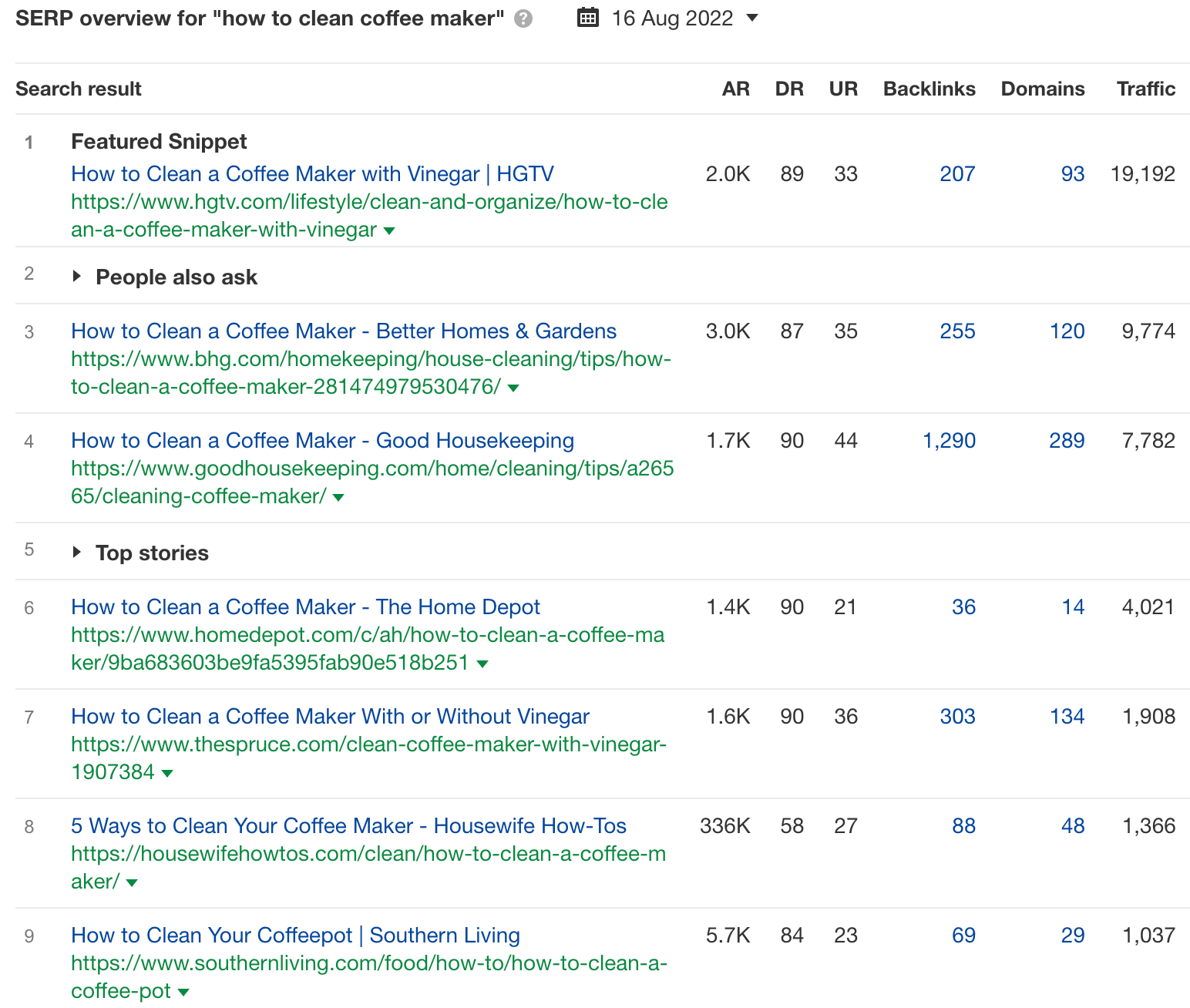 Content type – They're all blog posts.
Content format – Most of them are how-to guides.
Content angle – It seems like a few of them mentioned "with vinegar." It could be a potential angle you might want to go for. 
If you're targeting this keyword, for example, it's likely you'll have to create a how-to guide on cleaning a coffee maker (perhaps with vinegar!).
Recommended reading: What Is Search Intent? A Complete Guide for Beginners 
3. Create the content
Targeting keywords with blog posts is no longer about stuffing as many keywords as possible. That's an ancient tactic that no longer works. If you want to rank high on Google, you need to show Google that your content is relevant and deserves to be on the first page. 
By matching search intent, you've already cleared the first hurdle. But how else can you show Google your content deserves to be there? 
Here's how:
A. Cover important subtopics
If there are subtopics that almost all the top-ranking pages cover, then it's a sign that searchers are looking for them. 
Here's how to find these subtopics:
Paste a few top-ranking URLs for your main topic into Ahrefs' Content Gap tool
Leave the bottom section blank
Hit Show keywords
Set the Intersection filter to 3 and 4 targets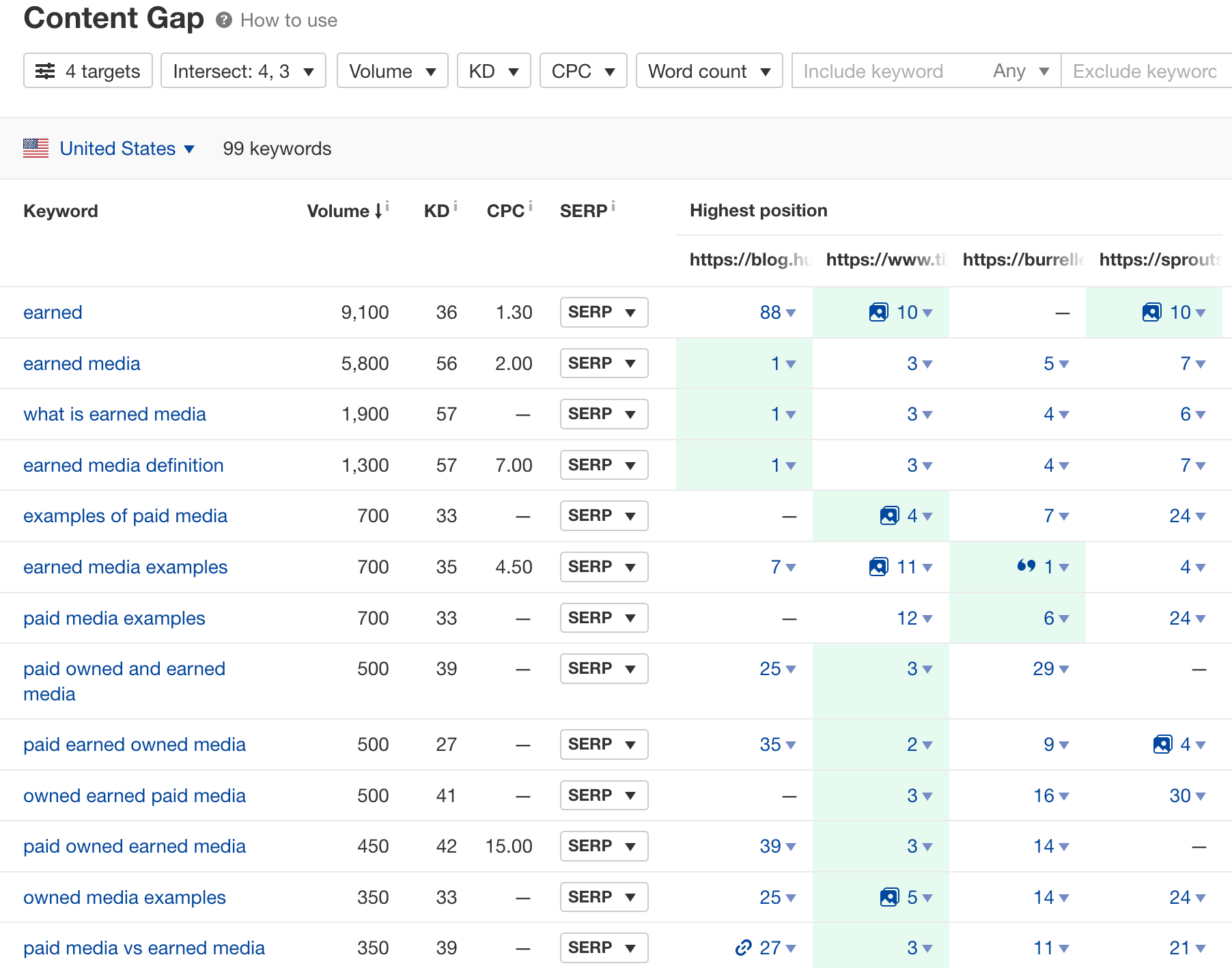 We can see that the top-ranking pages cover topics like these:
What is earned media
Earned media examples
Owned media examples
Paid media examples
Paid media vs earned media
Owned media vs earned media
And more.
If we're covering this topic ("earned media"), it is likely we'll have to cover these subtopics too. Even better: You can use them as potential H2s to organize your content. 
B. Invest in a good reader experience
You should make sure your content is easy to read. After all, the purpose of your blog post is not just to rank but also to get the reader to consume your content. 
Follow these tips to create an effortless reading experience:
Use descriptive subheadings (H2–H6) for hierarchy
Use bullets to help with skimming
Use images and GIFs (where needed) to break up the text
Use short sentences and paragraphs to avoid "walls of text"
Use simple words that everyone can understand
Write as you speak to make things conversational
Read your copy out loud (when editing) to smooth the flow
C. Don't forget your on-page SEO
Your on-page SEO is the "icing" on the cake that helps make it doubly clear to Google and searchers that your page is relevant.
Here are the basics:
Use the keyword in the title (if possible) – Google confirmed the importance of headings in 2020. If it's difficult, don't shoehorn the keyword—use a close variation instead.
Use short, descriptive URLs – A descriptive URL, usually the keyword, helps searchers understand what a page is about before clicking. 
Write a compelling meta description – It's not a ranking factor, but it further helps entice searchers to click on your result.
Use descriptive alt text – This helps Google understand images better. 
Link to relevant internal and external resources – Linking to relevant internal and external resources helps visitors navigate your website and find more information.
Learn more
Interested in learning more about SEO and creating SEO content? Check out these resources:
Any questions or comments? Let me know on Twitter.