If you're considering selling your website, you need to know how much your website's worth. While there are many website value calculators out there, most of them are inaccurate at best.
Website value calculators base their numbers purely on traffic and domain rating. To give you an idea of how inaccurate that is, a website that I'm in the process of selling for $500K was valued by one of these calculators at $14K.
Yikes!
Don't worry—I'm going to teach you how to actually make an accurate analysis of how much your website could sell for.
Now that you know the factors that affect your website's sale price, let's actually come up with a number for you! Each of these steps will give you a value—but the more you follow, the more realistic your valuation will become.
Step 1. Create a financial spreadsheet
The very first thing you should do to calculate your website's worth is create a spreadsheet, which includes your profit and loss, add-backs, and net profit.
Here's an example of what that may look like: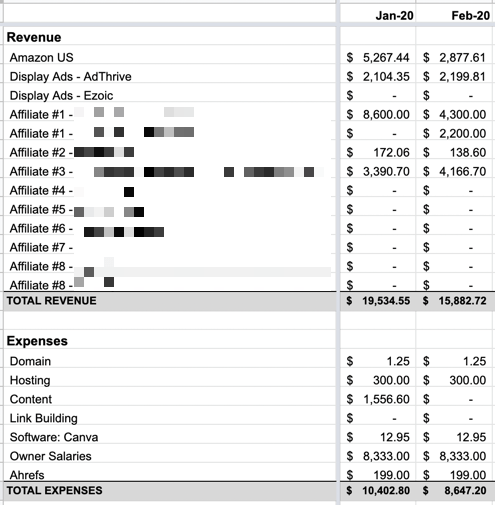 You create a column for your revenue, then columns for each month. Do the same thing with your expenses. Revenue – Expenses = Net Profit.
Once you've listed your income and expenses, then you can create a section for add-backs (also called Discretionary Spending). These are expenses that the new owner won't incur in the future or wouldn't have incurred if they had owned the business.
For example, things like owner salaries, link building or content that created business growth, or web development.

With that done, calculate your net profit: Revenue – Expenses + Add-Backs = Net Profit.
Once you have the net profit for the last 12 months, simply add all of that together and divide by 12 to get your average monthly profit. Then take your average monthly profit and multiply it by 30 to 45 to get a range your website could sell for.
If that's all you wanted—you're done! But if you want to take it a step further and get a better idea of what you can realistically sell your website for, move on to step #2.
Recommendation
If your website doesn't have any income and you purely want a valuation based on traffic, you can get a rough idea by using the traffic value metric in the Overview report from Ahrefs' Site Explorer. It represents an estimated monthly cost of traffic from all keywords a site is ranking for if paid via PPC.
Step 2. Contact website valuation companies
There are online websites/business brokers who can help evaluate the value of your website and help you find a buyer, negotiate terms, and close the sale.
Places like Empire Flippers and Flippa are examples of such brokers.
They will evaluate your website's worth for free. Just head to their site and fill out a form, and you'll know your site's worth within a week.
I recommend going through this process even if you don't actually plan on using their brokerage services because it will give you a much better idea of what your website can realistically sell for in the current market. They do this for a living, so they're pretty good at it.
When you sign up, you'll get a Seller's Dashboard with questions to answer and, eventually, offers for your site.

Once this part's done, step #3 will help you get the best deal possible.
Step 3. Look for other interested parties to get the best deal
Working with brokers has a lot of perks: They can find the buyer for you, help negotiate the deal, and ensure a seamless transition into the new owner's hands. They also provide legal help and make it so you don't need to hire an attorney or worry about contracts and other complex things.
However, to provide these services, they take a hefty fee. In Empire Flipper's case, it's 8% of the sale price up to the first $700K as of this writing.
If you want to get a better deal and take more home when you sell, you should consider finding the buyer yourself and hiring an attorney to oversee the deal. In the end, if your site is big enough, this will end up saving you money.
That said, if you have a smaller site, it may not be worth the hassle to save a tiny amount.
But if your site is bigger, you can find buyers in a lot of ways. You can reach out to competitors directly to see if they're interested in acquiring you, or you can look to other parties who can benefit from owning your site.
For example, if you own a site about automotive work, you can reach out to mechanics or companies that sell auto parts or bloggers who write about similar topics.
It will be a lot of extra work and manual outreach to find yourself a buyer. But if you want the best price, it's the only way to get it.
Now you have an idea of what your website is worth and want to see that number get bigger. How do you do that? Obviously, you can do it by making more money. But beyond that, here are five ways to increase your sale price:
1. Diversify your income streams
Remember how I said websites with multiple income streams sell for more than those with a single income source? Well, if you only have one or two ways of making money, expanding that will help your multiple.
You can do that by:
Adding display ads to your site through a display network like Ezoic or AdThrive.
Branching out to other affiliates besides Amazon.
Creating and selling your own physical or digital product.
If you're able to, I highly recommend working out affiliate partnerships directly with the companies you love to promote. 
Amazon's affiliate program is great and easy to use, but it only pays a few percent. If you work out your own partnerships, you can get anywhere from 5% all the way up to 30% or more. It pays to build relationships and do things others are too lazy to work on.
2. Negotiate higher rates with affiliates
If you already have partnerships with different affiliates, an easy way to increase your income is by negotiating a higher rate.
It's extremely common for affiliates to give out a higher commission if you just ask—so long as you have an existing relationship with them and you're actually sending them sales.
Send them a quick email like this:
Hey [Name],

I've been working with you for X months/years now, and we've sent $X in sales to you. It's been wonderful working with you, and we love promoting your products!

If you are able to bump our commission up to X%, that will give us more funds to promote your products to a wider audience and create more content around your brand.

Can we talk about getting this rate increase?

Thanks,

[Your Name]
Lastly, don't be afraid to pick up the phone and call them. It can often be easier to negotiate over the phone or on a video call. You can use the power of human connection, as you're not just an email address on a computer screen.
3. Reduce costs
If you reduce your business's costs, you can sell it for more money. Duh, right?
Some easy ways to reduce costs:
Canceling subscriptions you're no longer using
Paying for tools annually instead of monthly to save
Review your finances and remove or reduce any unnecessary expenses
This one's pretty self-explanatory, so I'll leave it at that.
4. Diversify your traffic sources
Just like diversifying your income sources can increase your website's value, having multiple traffic sources can offer the same result.
I already mentioned that organic traffic is more valuable than paid traffic. So you can start SEO efforts to get more organic traffic.
Besides that, you can also create and promote your brand on multiple social media channels. Start a TikTok account or a YouTube channel. Cross-post on Instagram and Facebook. Maybe even start a Facebook group and build a community.
These are all ways to increase your website's traffic and, ultimately, how much you can sell it for.
5. Create standard operating procedures
SOPs not only make your business more valuable to buyers, but they also make it easier to run and hire people to do the tasks you've documented. This, in turn, makes it easier to scale up your business and make more money.
Essentially, an SOP is a document that outlines exactly how to do a specific task in your business step by step. They often include screenshots and even videos.
Here's an example of one of my SOPs on finding and reaching out to influencers for content promotion: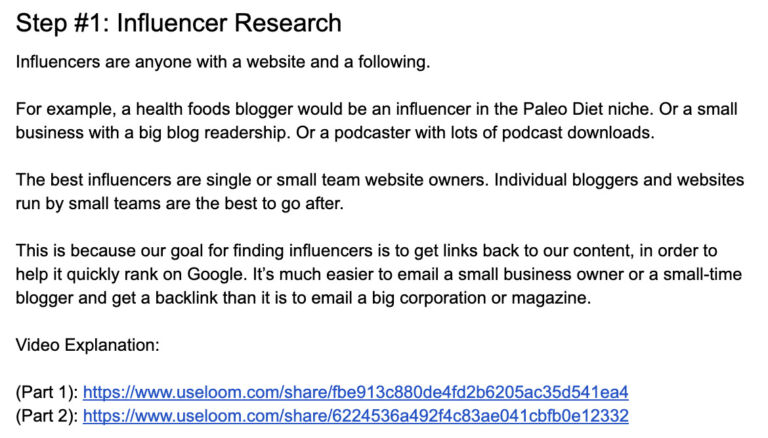 It breaks down each step, explains the goal and process, and links to videos on how to specifically do each part of the process.
Here's an excellent guide by Sweet Process that teaches you how to make SOPs.
So should you sell your website?
At this point, you should know how much your website is worth and how to increase that number.
If you've got this far, it probably means you have a profitable online business—something many people envy. Are you sure you want to sell it?
For me, I made the decision to sell one of my websites I've been working on for nearly a decade due to personal reasons, a need for capital, and (most importantly) burnout.
I was tired of working on it after all these years. It was an amazing business that mostly ran itself, but I was ready for a new chapter in my life.
If that's you, maybe it's time to sell.