---

---
The Covid-19 pandemic struck us all hard and undeniably some of the worst sufferers have been small businesses. For many small businesses, shifting to an entirely remote work setting was not easy. Many did not have the resources or the know-how to manage remote teams. Despite the struggle, they figured things out on the go and carried on.
Now as we are gradually moving back to normalcy, quite a few businesses are hoping to make remote work a standard, having seen the productivity and cost benefits. Employees too seem to be enjoying the flexibility that remote work gives them. Almost 97% of employees say that they don't want to return to the office full-time.
For businesses that rely heavily on content, managing a remote content team has also been equal parts challenging and fruitful. Content creation and marketing require extensive collaboration. In such a case, working remotely can be a nightmare unless you are equipped with the right tools and strategy for the job. As remote work is here to stay, you need to invest more time, effort, and resources into building and managing a remote content team more effectively.
Here are a few tips and best practices that will help you achieve great results when working with a remote content team.
Building and Managing a Remote Content Team – Tips, Tools, and Best Practices
When it comes to working with a remote content team, there are two major challenges that you might face. The first is finding the right people for your team. Remote work gives you access to a much wider talent pool as you can hire people from anywhere without geographical barriers coming in your way. But identifying talent without in-person interaction can be tricky. You might want to start by hiring vetted freelancers on reliable freelance platforms to see how the remote setting works for you. This will give you an idea of how content creators are able to deliver work and what their requirements are, without having to invest in hiring right away.
As you get accustomed to the process, you can go ahead and consider building your own team of in-house and freelance content creators. For your in-house team, though, you will need to provide the appropriate tool stack for productivity and efficiency. You also need to foster a culture of collaboration and support, which is a little harder to achieve when the team is working from different locations.
Here are a few areas that need your highest attention when dealing with a remote content team.
Communication
The biggest hurdle in remote work is communication. Barriers to communication exist even when teams are working in a physical setting. These barriers only tend to become bigger when working remotely. For a successful content process, effective communication is key and it is important for you to ensure that communication flows both ways within your content team.
It is important for team leaders and managers to encourage conversations and conduct regular team huddles to ensure that people stay connected. Since it is not possible to take a coffee break with a colleague or spend time chatting by the water cooler, virtual meetups are essential for relationship-building.
Effective communication within a remote content team requires a centralized communication platform. Instead of relying on multiple, fragmented channels like email, messaging or phone, having all your team members on the same platform helps keep conversations alive.
A platform like Slack can be used for all your team communication. Slack has messaging, voice, and video calling capabilities that pretty much cover all your communication requirements. You can also create channels for different projects, topics, or teams with only the team members who need to be in the conversation.
For team meetings and video calls, you can also use software tools like Microsoft Teams, Google Meet, or Webex Teams. These platforms allow for easy communication over voice or video with multiple team members.
Collaboration
Content projects are all about collaboration and teamwork. Your remote content team must be made up of content writers, editors, graphic designers, project managers, and others. Content needs to be created, reviewed, shared with stakeholders, and delivered to clients or published to your own platforms. In all of this, your content team needs to come together and work on a content task to get it to the finish line. Having the right tools to enable easy collaboration in remote work is imperative. There are a number of useful content collaboration tools that you can benefit from investing in.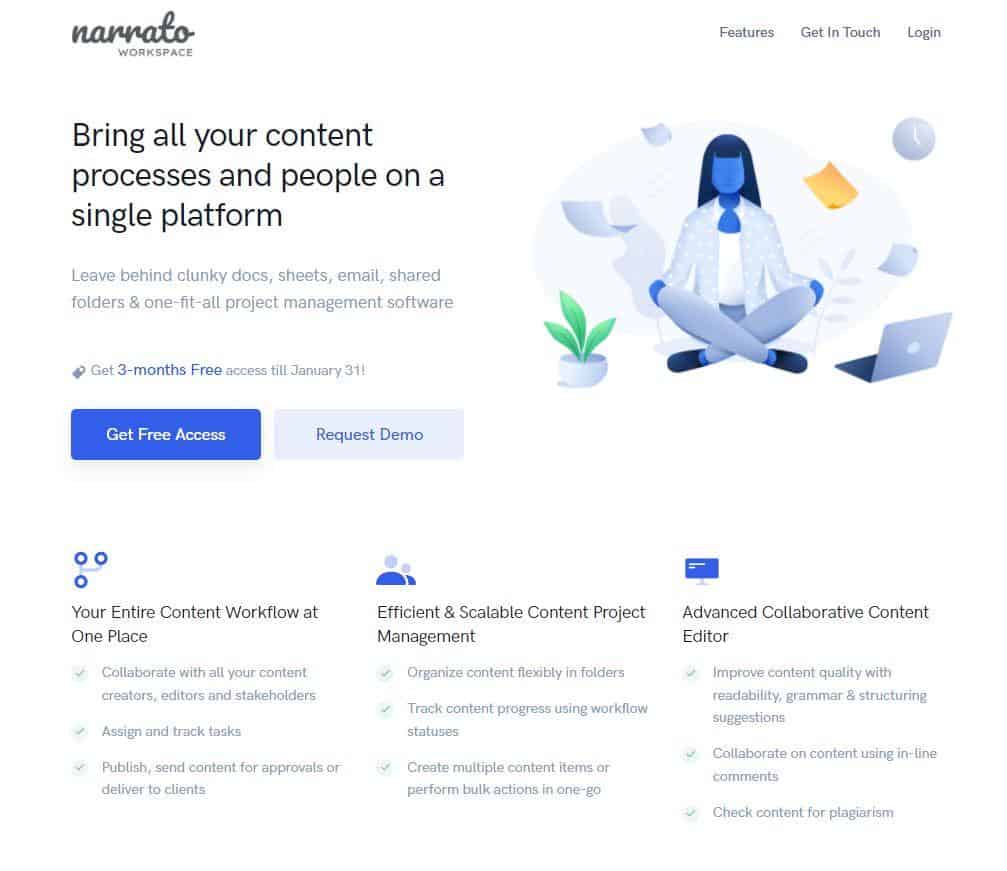 Narrato is a content creation, collaboration, and workflow management platform that brings your complete content process to one place. You can bring your entire team on the platform to collaborate on content projects. Tasks can be easily assigned to content creators and feedback can be shared using in-line comments and messages on the platform. A powerful content editor with content optimization suggestions, AI writing assistant, and plagiarism checks helps writers create high-quality content. Briefing the writers is also easy by creating custom templates and style guides for different content projects.
You can organize all your content under Projects and Folders on Narrato and manage content projects through calendars and workflow boards. There are custom roles and access for team members, freelancers, and other stakeholders. You can even manage freelancer payments on the platform. Content can be easily shared using publicly shareable links or you can publish directly to your blog/website with the WordPress integration. Overall Narrato is an all-in-one content creation and collaboration tool for remote content teams.
Your team may also need a visual content collaboration tool for all the designs and graphics that they work on. Content usually includes videos, infographics, presentations, social media posts, and more. For such tasks, you can pick a good visual content collaboration platform like Canva or Figma. Content creators can share links with viewing or editing access to their design projects on these platforms.
There are hundreds of templates, stock images, graphics, etc. to choose from and the editors on both platforms have a very user-friendly interface, making the design process extremely easy. Figma also allows brainstorming with team members using tools such as sticky notes and diagrams that can be added to an online whiteboard. A visual content collaboration platform like this can be both convenient and fun to work on for your remote team.
Control and Tracking
In managing a remote team, a huge challenge is keeping a tab on what your team members are doing. In the office, you can see them working at their desks. But with a remote team, you have limited, or rather no visibility.
Trust in your team members is undoubtedly important, irrespective of where they are working from. But every team has some workhorses and some slackers. If you are not in control here, some of your team members will end up bearing all the burden of work while some will remain underutilized. It is important for leaders and managers to ensure that work distribution is fair and uniform.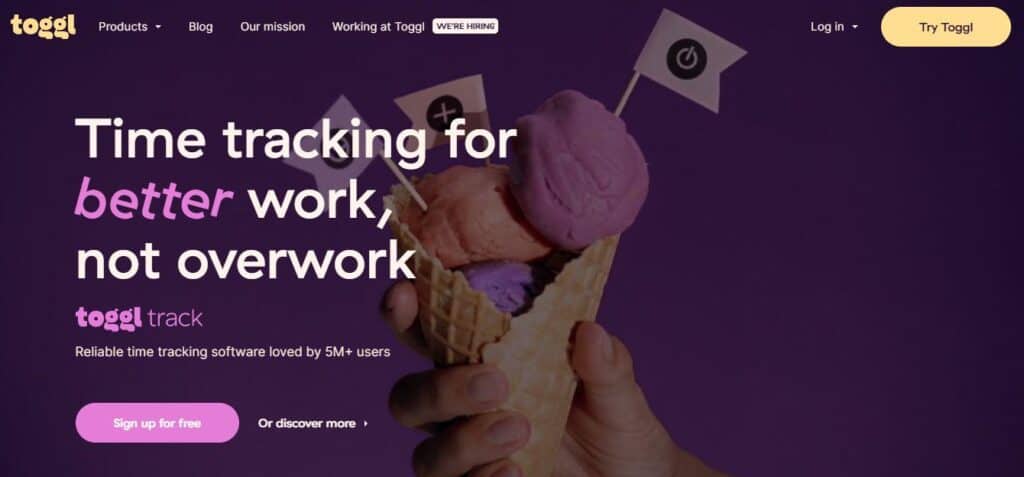 This may not always be necessary, but some content teams may benefit from using a time tracking tool like Toggl. The tool has a web, desktop, and mobile app that helps keep track of working hours so you can ensure that no one on your team is overworked. Toggl also has calendar integrations, sends tracking reminders, and provides insights and reports on all users and projects too.
Other similar tools include Harvest, Hive, and Time Doctor, to name a few.
Apart from using these tools, it is also important that the team leader sets the expectations right, from the very beginning. The remote content team needs to be clear about what is expected of them in terms of productivity and what their daily deliverables are. Clear timelines for projects should be provided and regular reviews are a must to ensure that everyone is on track.
Process and People
When working with a remote team, it is all the more crucial to have a well-defined process. In remote work, it is easy for team members to lose focus or feel lost unless there is a standard process of doing work. You need to structure your content process and define the workflow.
The best way to do this would be to sit with your team and brainstorm over what the ideal content process should be like. Discuss how work should flow from the beginning to the end of a project. Fix appropriate methods of sharing instructions and guidelines, assigning tasks, quality control, and project delivery.
It is also important to clearly define the roles and responsibilities of each team member. For instance, what is expected of the writers, what are editors and quality control required to do, what is the job of the project managers, and so on. This increases accountability and also gives direction and clarity to your team.
One-on-one Interaction
In any kind of remote work, one-on-one interaction between leaders and team members is essential. Though this is a part of any good work culture, it is increasingly important in the remote setting. Set up regular one-on-one meetings with each of your team members and get to know how they are coping with work and the demands of remote work in general. These interactions help in building trust and goodwill with the team and can motivate them to do better. It will also help you understand the challenges they face and find appropriate solutions to enhance productivity.
Summing Up
Managing a remote content team has its own share of challenges and benefits. On one hand, you give your teams enough flexibility to work from the convenience of their homes, while you can save significantly on costs. On the other hand, you have limited visibility into the process and productivity can go downhill if you let things slip out of hand for an instant.
By clearly defining the rules, investing in the right tool stack, and taking control of the process, you can get excellent outcomes from your content team even when working remotely. Communication and collaboration together form the backbone of every remote team. Leaders who know how to foster an environment of open communication and support are sure to be winners.