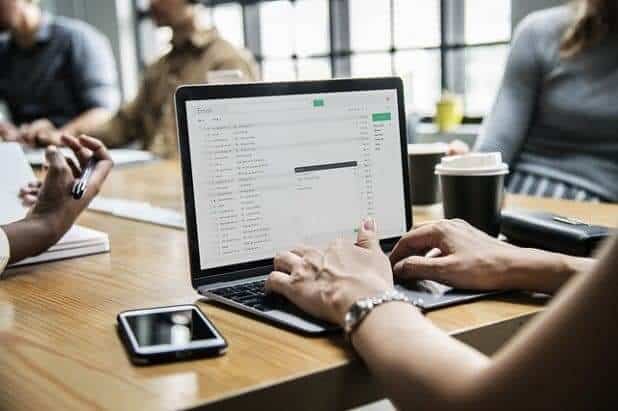 Content marketing is hard. In fact, content creation ranks high on the list of marketing challenges that brands struggle with. But with the right tools in your arsenal, you can power your content marketing campaigns with the most-engaging and hyper-focused content. 
Here are 8 content marketing tools and services that can help you create effective content marketing campaigns: 
1. Piktochart – Graphics & Presentations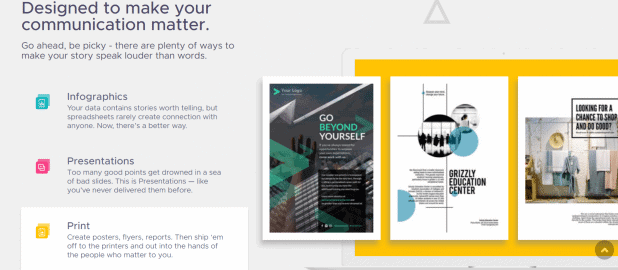 35% of marketers say that their biggest challenge lies in creating consistently good visual content. This is where Piktochart comes in. 
Piktochart allows you to create colorful and interactive graphics and visual content, in just a few steps. From infographics to slide shows to posters, you can create absolutely anything here. There are hundreds of templates available and each is fully-customizable. You can import your own logos, icons, charts and maps and add them to your visuals. 
The basic account is completely free, but the Pro & Pro Team accounts are paid. These accounts come with a design collaboration feature where you can benefit from the services of Piktochart's expert designers. 
2. Narrato – Content Marketing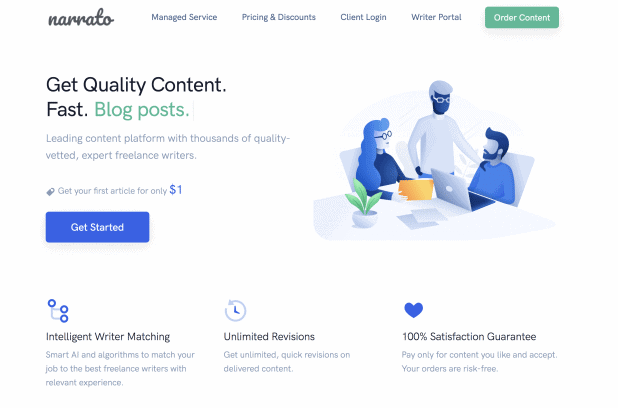 According to Hubspot, companies that regularly publish blogs generate 67% more qualified leads than companies that don't. But in-house content creation can cost you thousands of dollars. If only there was a way to get premium-quality content at pocket-friendly prices.
Narrato is a content writing freelance platform that is easy on the pocket. The platform has an expansive pool of experienced copywriters, industry experts, influencers and marketers. Once you place an order, the platform will use smart algorithms to find writers who have the knowledge, skill and expertise to produce content according to your specifications. Types of content that you can commission here include blog posts, articles, website copy and product descriptions. The platform also offers a free image recommendation tool which you can use to find awesome images for your blogs and articles. 
One perk of using this platform is that you pay only when you're happy with the job. If you need anything revised or reworked, Narrato offers free revisions till you are happy. Plagiarism check is automatically done on all content and offered for free. Cherry on top – you can start a trial for just $1.
3. Buffer – Social Media Management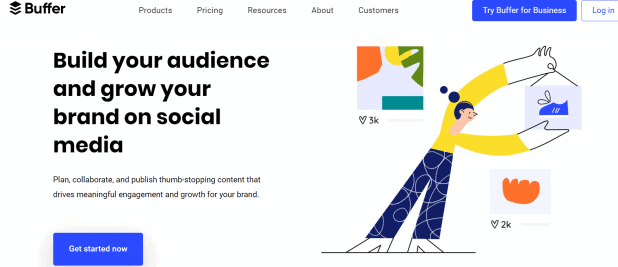 Social media is extremely relevant (and important) for your 2020 content marketing strategy.  A tool that can help you manage social media marketing better is Buffer. 
An extremely simple social media scheduling and posting tool, Buffer makes social media management hassle-free. You can post on all major platforms – Facebook, Instagram, Twitter, Pinterest and LinkedIn. 
Its clean layout and intuitive dashboard make post scheduling extremely easy. If you're not sure when to actually publish a post, Buffer can help. Its AI technology tracks your audience's content consumption behaviour and schedules posting at a time when it knows your audience will be online.  
The biggest perk of using Buffer is its Conversation Management tool. It helps you interact with your team members, share content and seek approvals before you actually publish the post. There's also a set of tools and reports to track your post's reach and engagement. 
4. Fiverr – Miscellaneous Marketing Gigs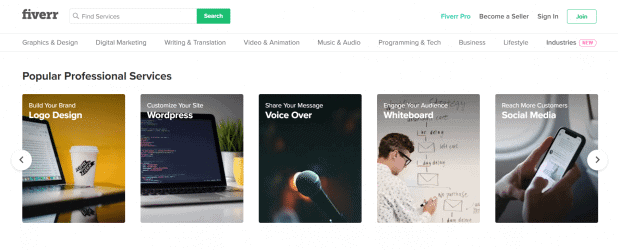 A good piece of marketing content includes audio, animations, design and gamification. To get these elements developed at pocket-friendly prices, head over to Fiverr. 
Fiverr is a freelance marketplace where companies can post all types of marketing, translating, coding and graphic designing jobs that will be picked-up and completed by experienced freelance professionals. 
Fiverr is auction-based. You'll have complete control over the price and submission deadlines. Once you post the job, freelancers can bid for it and you get to decide who gets the job. Fiverr has a robust project management tool that allows you to track project completion, communicate and coordinate with freelancers and also make payment for submitted work. 
Fiverr has recently launched its influencer store, where you can find experts and micro-influencers who specialize in channel-specific marketing. 
5. SEMRush – SEO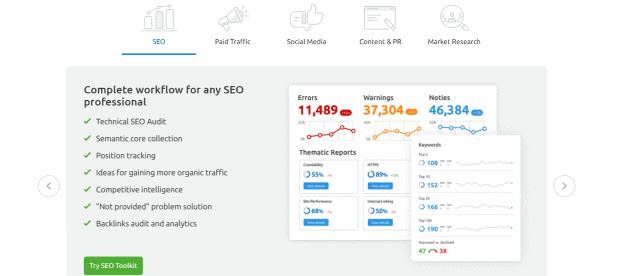 Search engine marketing (SEM) is very important for businesses. Unfortunately, a lot of marketers don't really know how to go about SEM. This is where a tool like SEMRush adds value. 
SEMRush offers a suite of search engine audit solutions that helps marketers track the reach, effectiveness and success of their digital campaigns and websites. Right from site-domain/campaign overview to a granular breakdown of each metric, SEMRush gives you exhaustive insights about your marketing activities. 
Need help finding the right keywords and tags? SEMRush has an 'Ideas' section which you can use to come up with relevant and data-driven solutions. 
In addition to understanding your own SEM activities, you can use SEMRush to identify which competitor campaigns/sites are performing well and how visitors are reaching them. You can even track and compare your own website rankings with that of a competitor's using this tool. 
6. Sendgrid -Email Marketing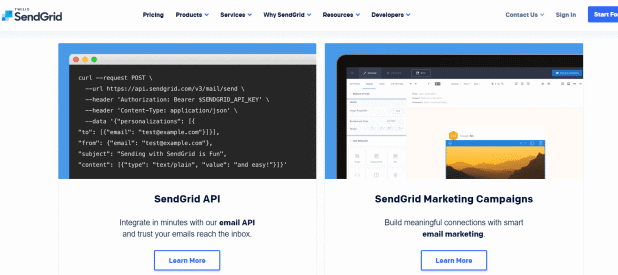 80% of marketers state that sending personalized emails to customers help them with customer retention. An email marketing tool can help companies fine-tune email campaigns for more-focused results. 
Sendgrid is a cloud-based email marketing platform that takes end-to-end control of your company's email operations. From generating persona-specific email templates to sending funnel-stage-specific mails, Sendgrid does them all. 
If you'd like to see the performance of your emailers, then you can use Sendgrid's exhaustive reporting tool. You can track open rates, CTRs, links, engagements, unsubscribes, bounce rates and conversions. 
The advantage of working with Sendgrid is hassle-free scalability at the lowest cost. The platform can send up to 4,190 emails per second and each mail is regulatory-compliant with CAN-SPAM regulations. 
7. Group High – Influencer Marketing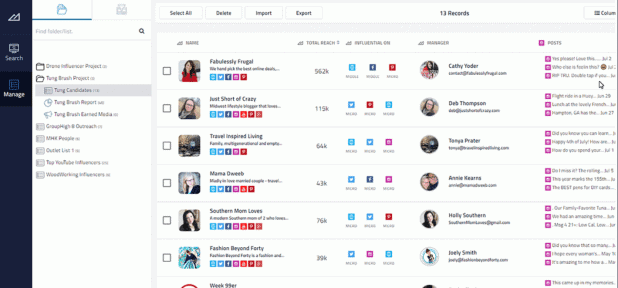 Fake influencers can affect the credibility of your company and the success of your campaigns. But how do you identify which influencers are genuine and if they're the right fit for you or not? 
Group High is an influencer outreach platform that helps marketers with end-to-end influencer marketing. It has a massive database of influencers and bloggers (from over 15 million blogs/accounts). You can use the search tool to filter influencers based on industries, geographies, age groups, ethnicities and interests. With the 'Discover' feature you can find influencers who fall outside your search filters. 
Group High uses AI technology to monitor influencers' profiles in real-time. This way you know how many followers they have, how active they are on various channels and what type of content they've recently published. 
The platform has a very simple-to-use dashboard where you can connect and collaborate with influencers. You can also monitor their work and track the engagement your posts receive through customized reports. 
8. Pixabay – Free CC Images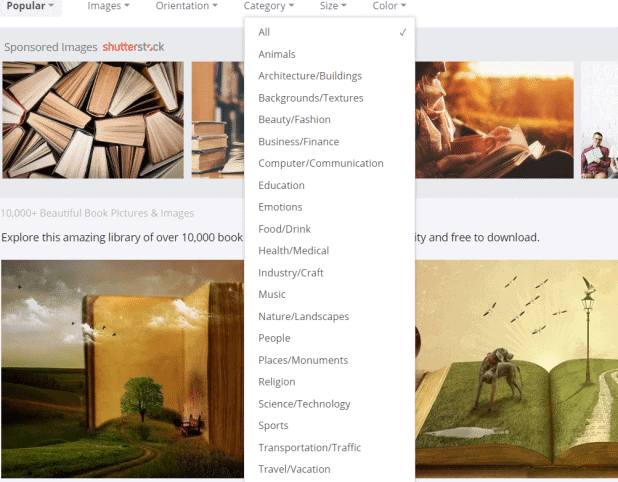 Do you always have trouble finding free-to-use images for your content marketing campaigns? 
Pixabay is an online database of premium-quality, hi-def photographs and videos that are completely free to download, share and use. The platform contains millions of free images that are tagged using various keywords. Once you enter a keyword in the search bar, you'll find all those images with the same tag displayed. Related tags are displayed at the bottom of the page and this makes it very easy to search for images. 
There is an option for 'Safe Search', where you can lock any explicit or disturbing images from popping-up in the search results. You can even filter images and videos based on size, background color, category and orientation. 
Pixabay also has a collection of sponsored photographs by other platforms like Shutterstock and Canva, which you need to purchase to download. 
Wrapping up
Content marketing when done right can give you a very impressive ROI. So now that you've read about the best tools for content marketing, time to give them a try.
---
Nisha Prakash is a blogger specializing in social media marketing and content management. She is an avid runner and a bibliophile.