December 18, 2019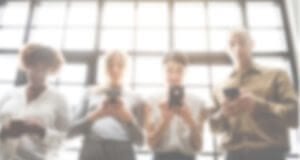 The biggest problem with podcasts is ensuring their discoverability in search results; but that will no longer be an issue thanks to the new Google Podcast app. It comes integrated with Google Assistant and Search while also offering far better add-ons than any rival services at the moment. 
Consider this: according to the latest statistics, around 32% of Americans have listened to a podcast within the past month. That's a massive growth as listenership has increased by 122% over the past five years. 
On the other hand, Apple alone has seen over 50 billion downloads and streams over the last few years — but that progress has slowed down recently. So, it's great that the world's biggest search engine is ready to help.
Google's Podcast Strategy – Where It All Began?
Google Podcast product manager Zack Reneau-Wedeen wrote last year that, "Our team's mission is to help double the amount of podcast listening in the world over the next couple years."
Earlier in 2019, Sundar Pichai announced that Google is adding podcasts to search results – a part of their multi-pronged approach to snatch podcast domination from Apple. 
These announcements are significant for the podcast industry as well as content creators, SEO experts and marketers associated with it.
Here's What These Developments Mean to You
Google's Podcast team is taking a holistic approach to integrating podcasts into their products and services. This will lead to the following developments in the long-term: 
Podcasts in general and audio at large will become a 'first-class content citizen' – showing up higher in Google Search results along with text, images and videos
The listening experience will be the same across all Android-powered devices thanks to Google Assistant
The language and speech capabilities of Google will help podcasters explore futuristic features for content production
If you have a podcast, these developments make it more accessible in the almost three trillion searches that Google answers each year. As such, you can now take advantage of the following:
Seamless Listening Across Devices
Podcast lovers can now listen to their favorite shows by just saying "OK Google, play the Joe Rogan Experience podcast" on Google Home as well as all Android devices.
Listen to a few minutes at a time or the same episode over and over again; Google Assistant understands and remembers all related commands. And just like using Netflix, they can seamlessly transition between devices, locations and browsers without compromising the listening experience in any way. 
Seeing Your Podcasts in Search Results
The search engine giant now includes podcasts in native results, thus presenting a selection of episodes that can be played right from the browser. 
The searcher also gets a prompt to add a Podcast shortcut to their home screen. By simply tapping it, they can add the Podcast app on their Android device – complete with suggestions for Top Podcasts, Trending Podcasts as well as the user's previous subscriptions. 
There is no denying the fact that Google's search algorithms are the best in business; and so, to have your podcast pushed in front of the right audience using these algorithms is a surefire recipe for success. 
This also has some major repercussions for podcast SEO strategy and content marketing in general. 
A New Market
A dedicated app promises to bring in millions of new podcast listeners into the market. 
After all, most smartphones are Androids, but most podcast listeners come from Apple iTunes. Even Google admits that "It's so egregious that on a device-by-device basis, the average iPhone listens to over ten times more podcasting than the average Android."
Having a dedicated app that will soon be pre-installed on all Android phones will play a definite role in converting more Android users into podcast listeners – and that's great for the entire industry. 
Opportunities to Create Better Content
Google's partnership with Public Radio Exchange (PRX) aspires to give new podcasters a platform to get their voices heard. Together, they are providing seed funding and mentorship, all in an effort to fund the creation of better content that appeals to a broader audience. 
How to Use Google Podcast to Your Advantage
If you are a podcaster, it's only natural to want to optimize your show for Google Podcasts. 
Check out these guidelines and best practices from Google's developers and make sure that your show conforms to them appropriately. Also use the Podcaster's Toolkit as a guide on how to keep your podcast SEO friendly. 
Remember, the folks at Google hope to double the number of podcast audiences worldwide with this new strategy, and the latest figures show that they are well on their way. In its first month alone, the Podcasts app accounted for 1.83% of all downloads at Libsyn, the popular podcast hosting platform, making it the 8th most popular app in the world. 
Here's what else you can do to ensure the success of your podcasting endeavors: 
Enable Your Podcast to Get Indexed by Google
There are ways to ensure that your show gets on Google Podcasts fast and shows up with a detailed description. For starters, build a dedicated website and make sure it's available for Google's Bots to read. 
Also, have a valid RSS feed that conforms to the RSS 2.0 specifications and holds at least one episode in mp3 or m4a format. This developer guide should help if you need further guidance.
Optimize Your Podcast for Audio Search
After these latest developments regarding Google Podcast Strategy, Audio is undoubtedly the new frontier for SEO. 
You'll want to be prepared for them when Audio SEO becomes a possibility. Ultimately that means treating your audio/podcast content in a more well-thought-out and regulated way. This would also require you to be more aware of what type of content fulfills your audience's needs and delivering it efficiently. 
Ask yourself the following questions about your podcast: 
What (verbal) phrases or questions would make your podcast show up in the SERPs?
How can you describe your podcast in ways that make it more relevant to your audience?
How can your podcast rank higher for primary phrases?
Keep in mind that search is a zero-sum game; there is limited space on that first page of results. And since episodes will soon start competing with other types of content for premium SERP real estate, it is a good idea to build and name podcasts for spoken-word search requests and by answering commonly-asked questions.
How Google Podcast Strategy Changes the Future of Podcast Launches
If you haven't launched your podcast but are planning to do so in the near future, now is the perfect time to take advantage of the new strategy. 
When developing the podcast format, make sure it's the best possible fit for the audience that'll find you through search results. Find out what questions they want to be answered and then plan a show that addresses them.
 How can you get them to subscribe instead of moving on after getting the information they need? It's simple; create a series of episodes that revolve around same problem so your audiences subscribe and keep coming back for more. 
In Conclusion
This is just the beginning of Google's ambitions to take over the podcasting ecosystem. Just imagine; your home device will one day offer recommendations for podcasts based on what you've listened to previously, just like Netflix does with movies. 
As Google continues to develop audio search capabilities and boosts the organic discoverability of podcasts, the industry is expected to change and evolve in major ways.
---
Eduard Klein is Passion Entrepreneur and Blogger. He inspires other Creators, Influencers and Entrepreneurs to unlock their value of individuality and unique skills with technology – and make a living from it.