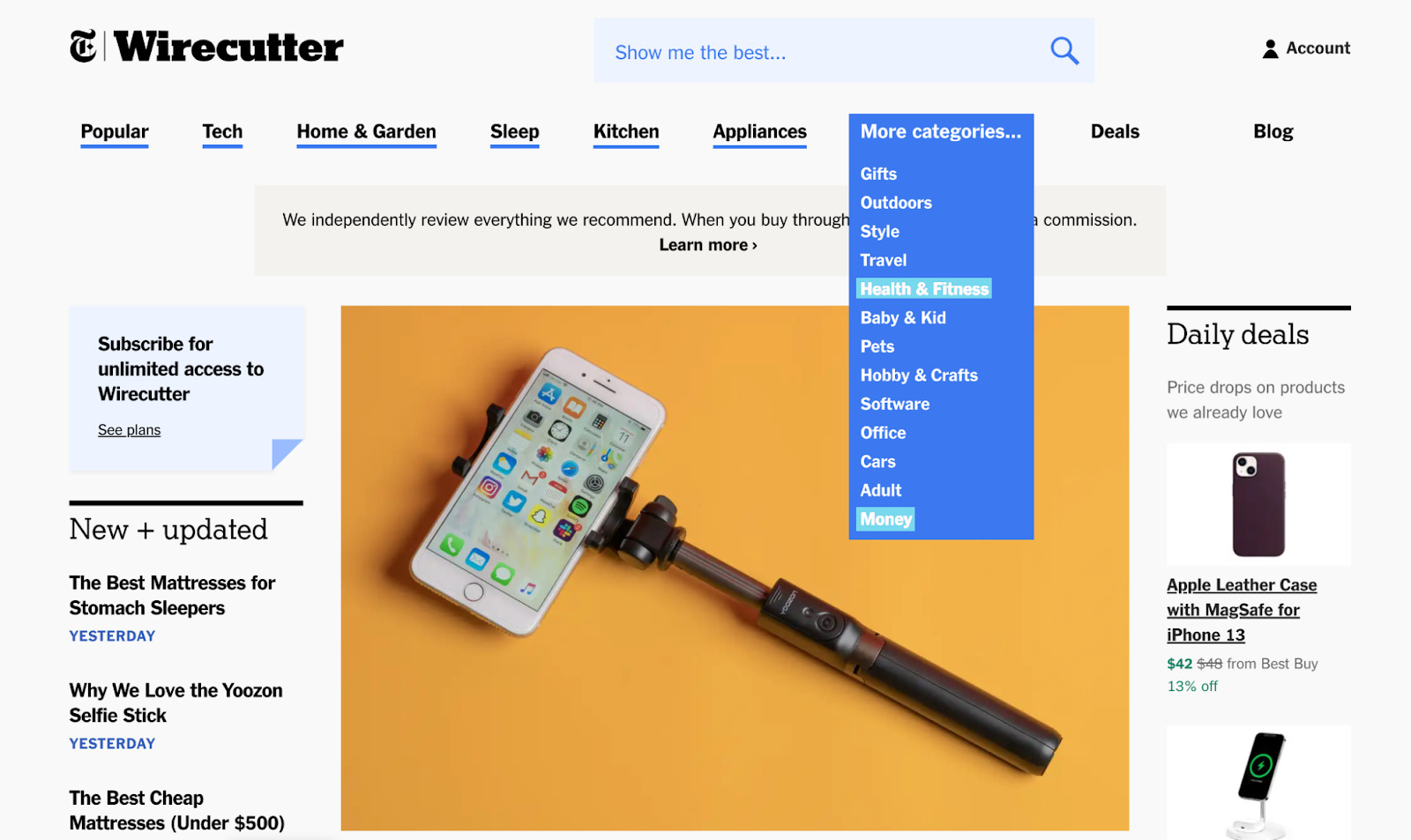 Wirecutter has to be on every short list of websites that affiliate marketers look up to and try to draw inspiration from. Its impact on product choices from its in-depth reviews is so high that there's even a term called "
2. Provide great user experience
Besides getting commissions, most affiliate websites are also part of ad networks trying to build their email databases or sell their products. But if you combine all that together, you're in for some bad user experience (UX):
Wirecutter is the opposite. Its content is pleasant to read and has great images, GIFs, and videos. Most importantly, the content doesn't contain any interrupting elements.
Its product recommendation boxes with affiliate links also look quite nice. Each box even has a "product saving" feature: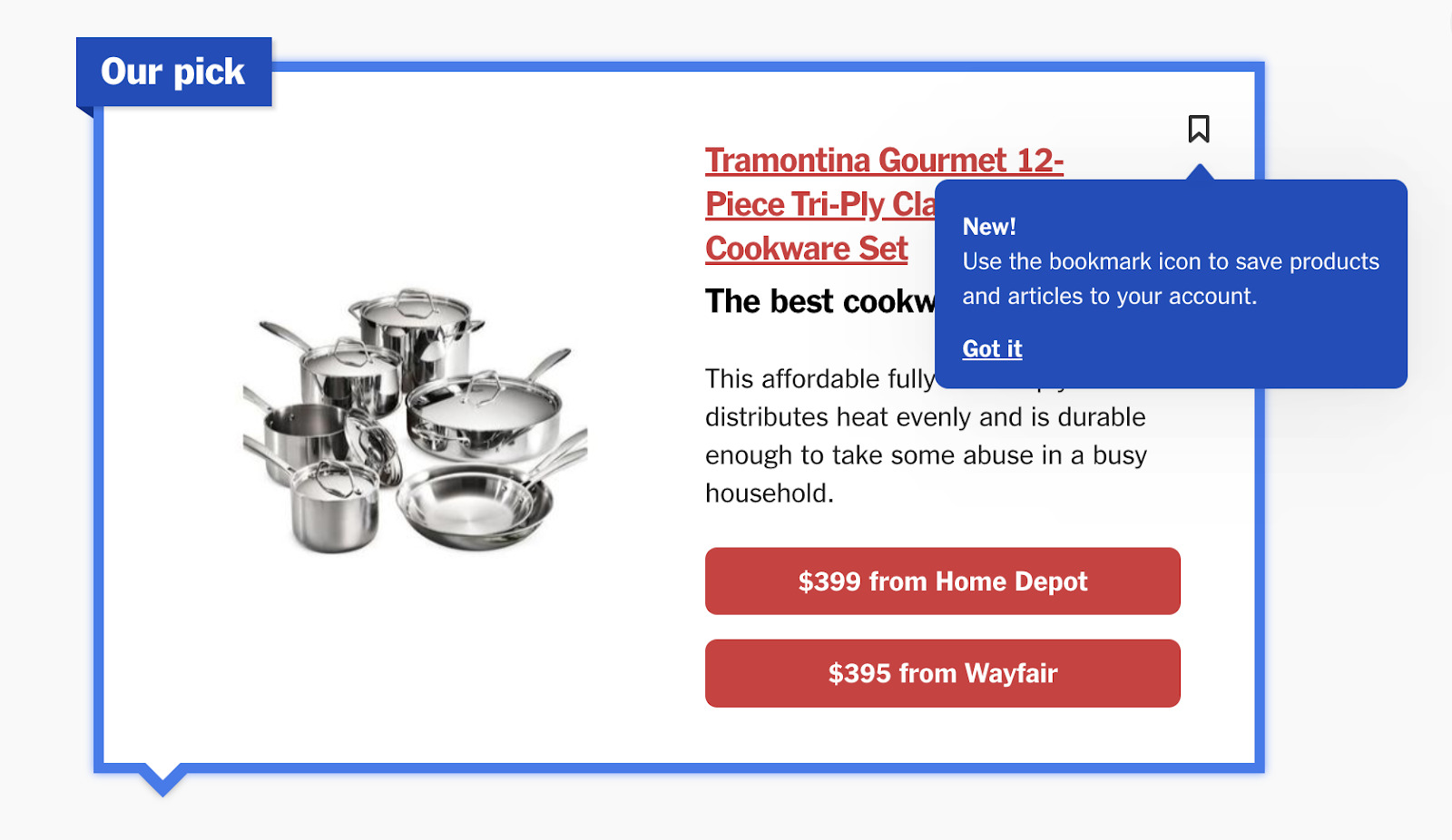 I get it. Maximizing your monetization options is enticing and often makes sense from the business perspective. But I'm convinced that many websites are better off in the long term if they optimize and moderate these elements.
Think about it this way:
Better UX may make your website more popular and its pages rank better. More engaged visitors obviously lead to more commissions from affiliate links. People may also prefer to more often link to good-looking and easy-to-navigate websites.
All of these factors combined will likely be worth more than what you'd make from the other monetization options.
Google already uses mobile-friendliness and Core Web Vitals in its ranking algorithm. It would make perfect sense if it evaluated many other UX factors as well.
Let's check the statistics of another review page: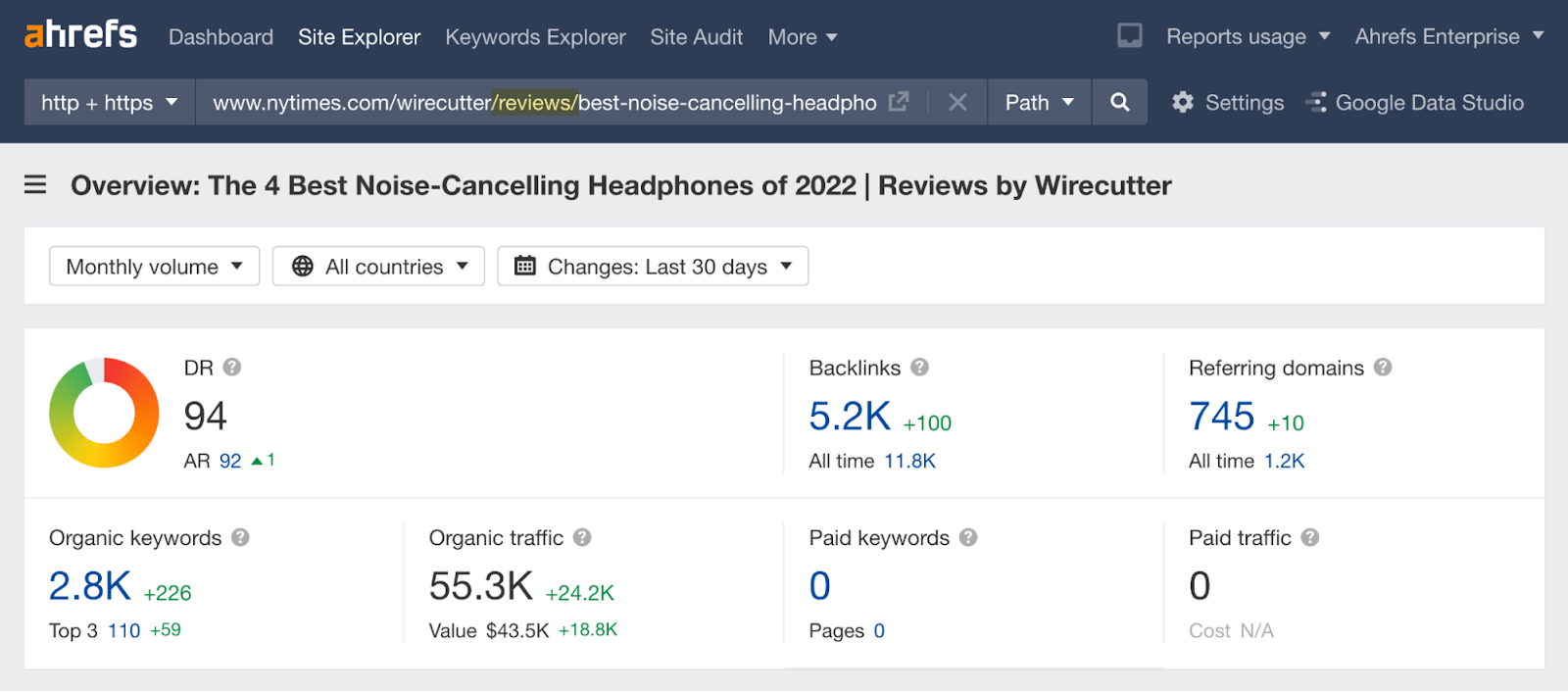 We can see that all Wirecutter reviews are placed within the /reviews subfolder. But all of its reviews are properly interlinked and categorized in the site navigation and breadcrumbs: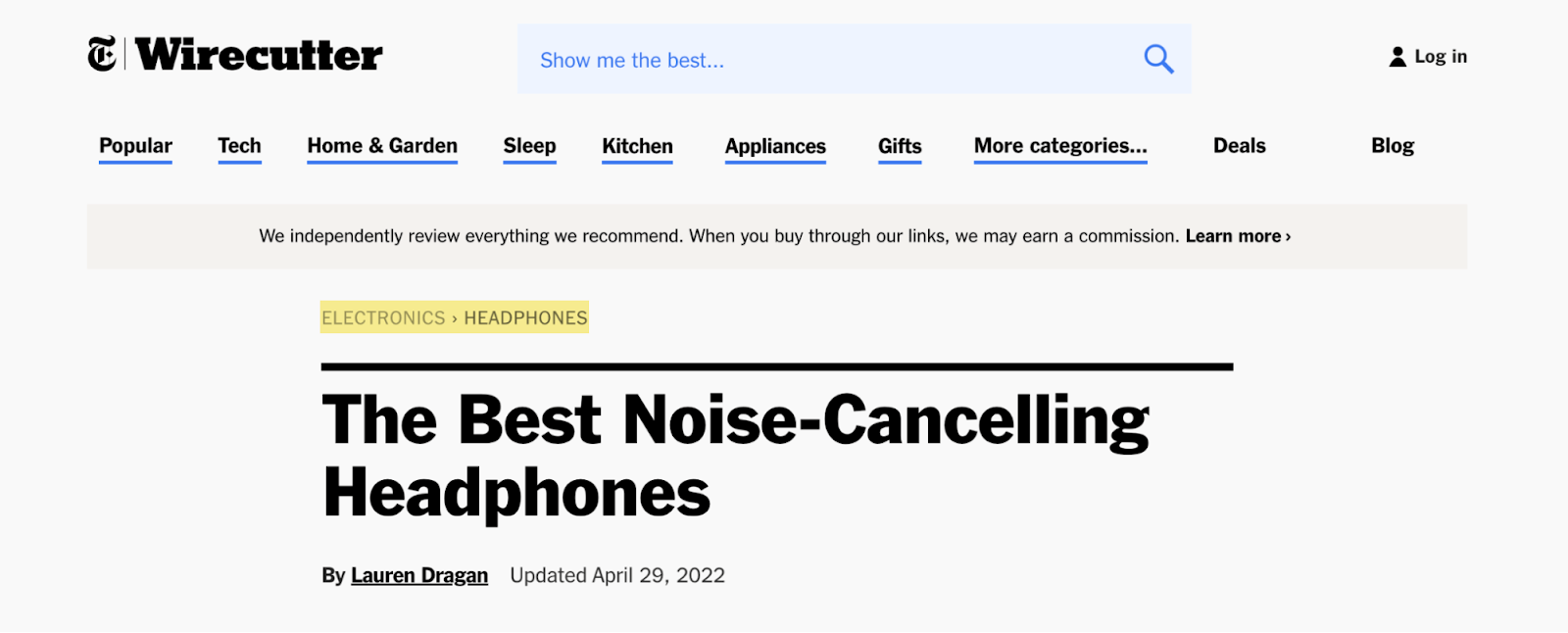 This one is placed within the Headphones category that's a part of its Electronics category. And as you can probably guess, these category pages also drive a solid amount of traffic:
Those category pages only have a bit of intro text and then it's just a list of reviews: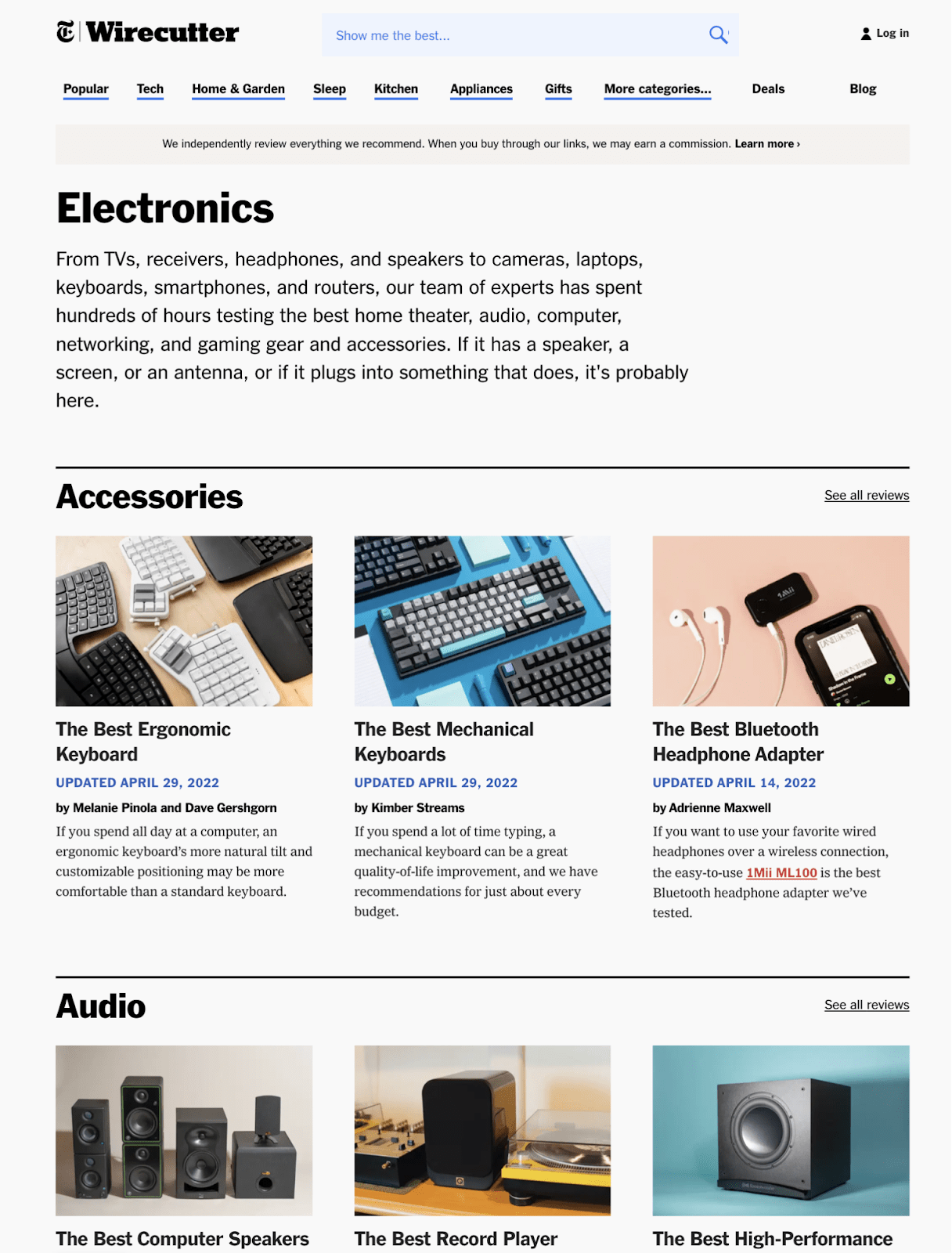 This is one of the best things you can do for proper internal linking, as each page has its place within a given hierarchy. Then there's the nice bonus of the traffic potential. Similarly, you can also create content hubs (also known as topic clusters) to cover high-level topics that can drive tons of traffic.
No matter which affiliate niche you're in, the business landscape, product development, and prices are constantly evolving. And you should reflect that in your content as well because some product recommendations can get outdated quite fast.
The ratio of updated vs. newly published Wirecutter reviews is almost 5:1 in the past 12 months:
This didn't surprise me. The more you cover a certain niche, the more often you'll come back to republish older content.
Wirecutter is already a big authority across many niches, so keeping those pieces up to date can bring quicker and more valuable results as compared to creating new ones. It also doesn't require as much effort.
I dived deeper into the data and looked at year-over-year (YoY) organic traffic differences of Wirecutter reviews that were first published before May 9, 2021, and updated within a year from this date.
Here's what I found:
That's almost 2.8 million more traffic YoY for updated reviews alone. Of course, some of those reviews might have ranked better or retained traffic even without updates, and some could have started ranking worse than before. But overall, the benefit of republishing is clear.
Updating older content is apparently so important for Wirecutter that it's even hiring writers whose main purpose is to keep articles within their niche up to date:
Last but not least, I really like how Wirecutter even keeps the prices up to date and tells you how they've changed since the review was first published: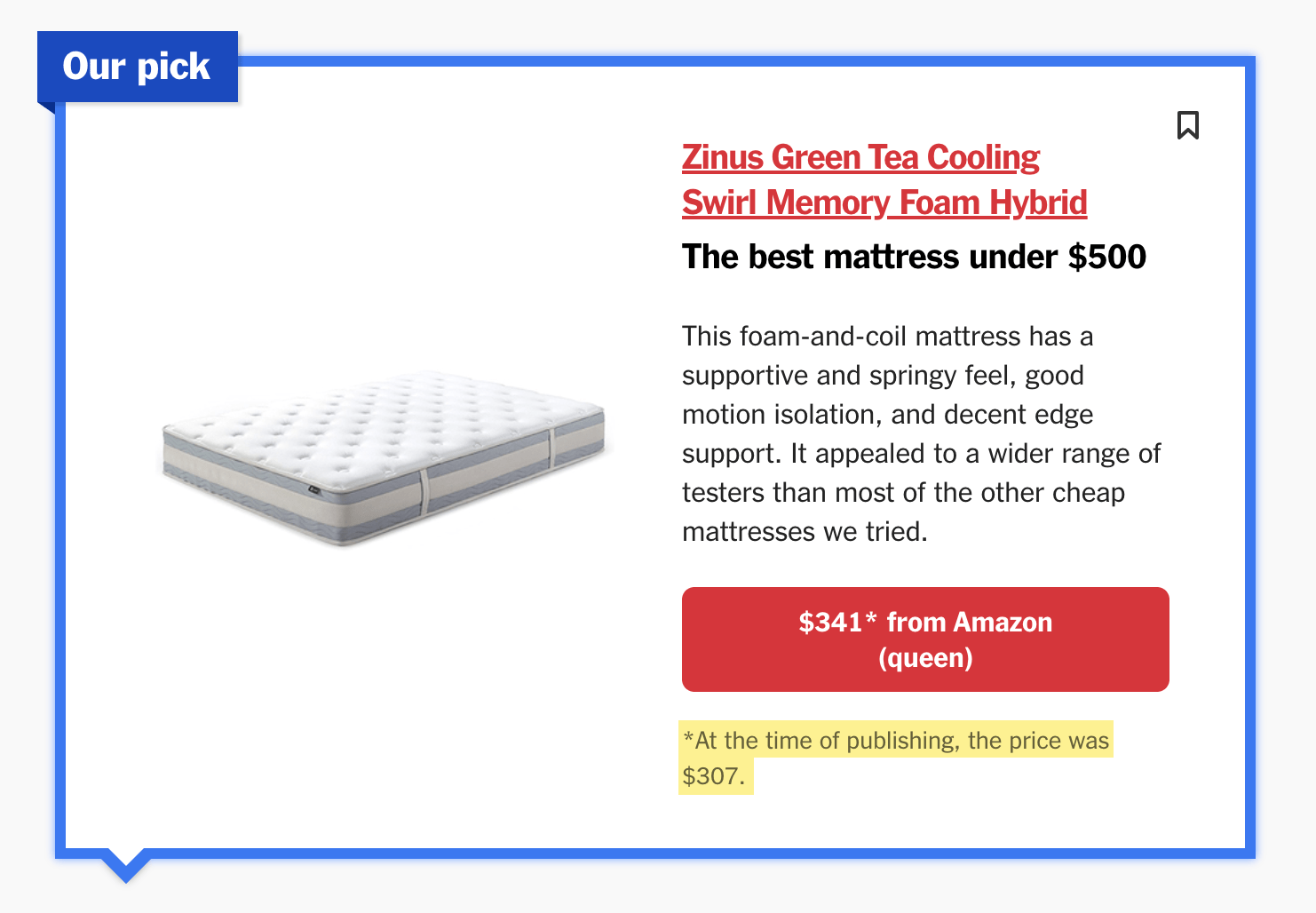 Learn more: Republishing Content: How to Update Old Blog Posts for SEO
Publishing great content can only get you so far. Even if your main traffic source is organic search, you need a solid content distribution plan to get every piece of new content in front of as many people as you can.
This isn't just about sharing the link to the new content on social media. Everyone does that, and organic reach on many platforms declines over time. Even Wirecutter doesn't get any impressive engagement numbers from this.
What I think Wirecutter does really well is its email marketing. Through that, the site shares all the new content and references relevant pieces that are older: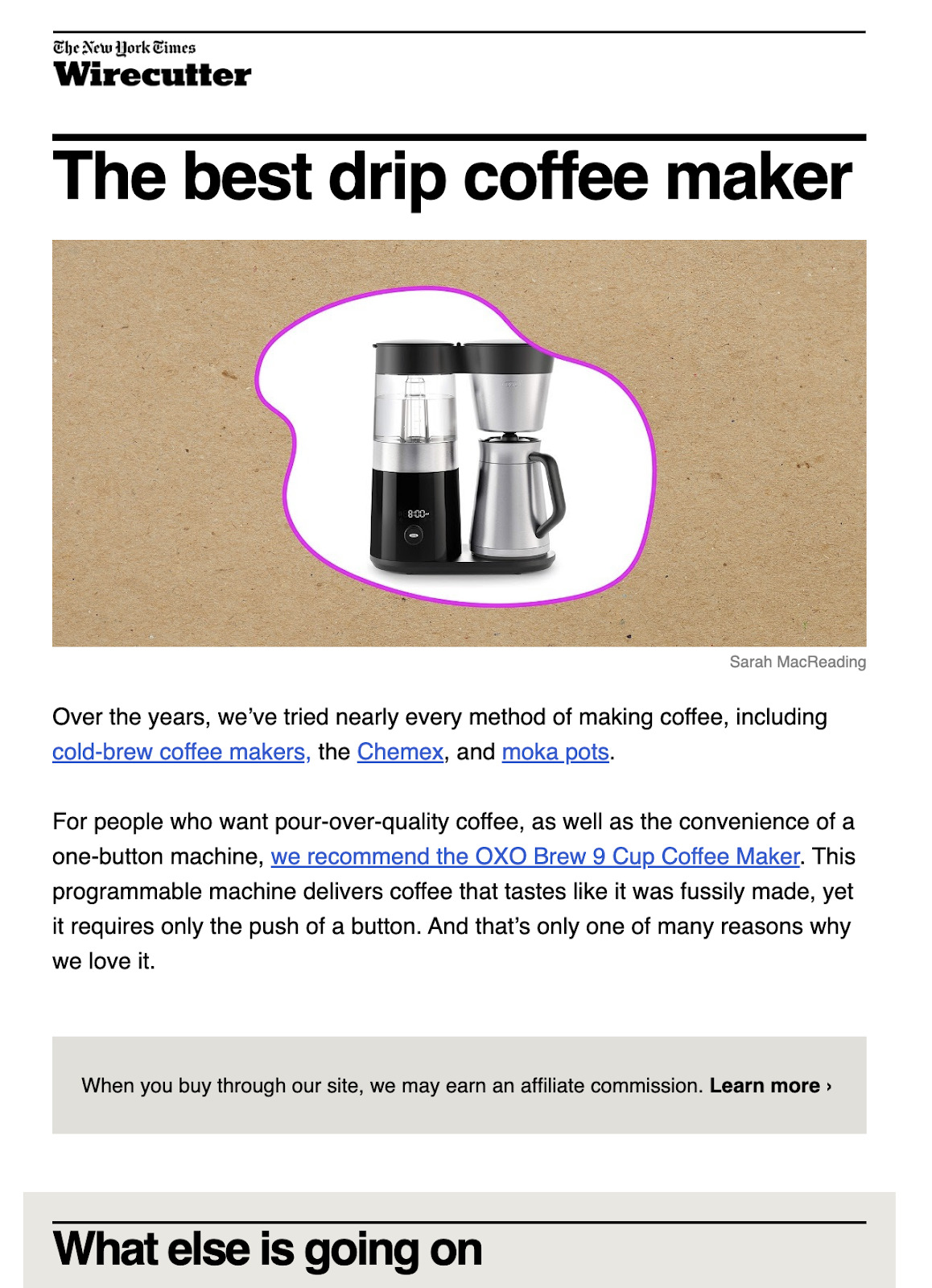 What you can do on top of building and leveraging your newsletter is repurposing your content into formats that do better on a given platform.
Examples of such content formats are threads on Twitter or short videos that are pretty much everywhere. Here's how Wirecutter repurposed its article about replacing household essentials into a TikTok video (that can be reshared on other platforms as well).
What does this have to do with SEO, you ask? The more eyes land on your content, the higher the chances you'll naturally earn a backlink—or get any other earned media that may have an indirect impact on your SEO performance.
And there's another, albeit more speculative, benefit. Many SEOs have found there's a high correlation between the buzz generated by new content and its traffic from Google Discover.
I can imagine that Wirecutter gets a ton of traffic from Discover and has the best resources to try and optimize for that, given that it's under the Times.
Final thoughts
Wirecutter also had to start somewhere. Founder Brian Lam already had great experience in publishing successful content, so his growth strategy was on point. But the thing is you wouldn't have known that you were looking at a future affiliate marketing "unicorn" back then:
It doesn't matter if you're just starting out or you already have a well-functioning affiliate marketing business. Applying the five tips we've just gone through will help you get ahead in your SEO efforts.
If you want to learn more about affiliate marketing, we have a whole category of articles dedicated to this topic.
Got any questions? Ping me on Twitter.